Vstupte do programu
a získejte každý rok nový mobil a notebook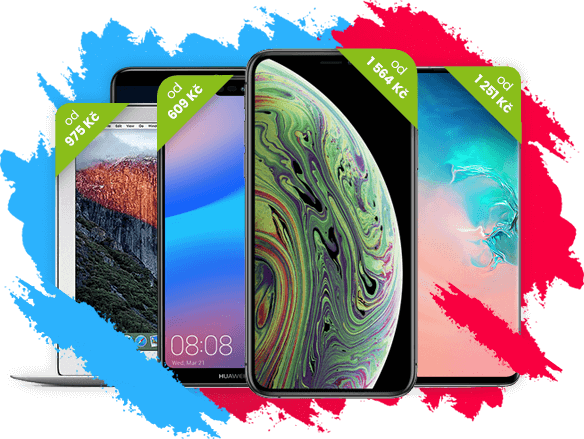 Vyberete si mobil, notebook nebo jinou elektroniku

Pravidelně vám je měníme za novější modely

Rozšířená záruka proti rozbití a krádeži v ceně

Platíte jen měsíční poplatek, bez úroků
Apple
Samsung
Huawei
Honor
Microsoft
Lenovo
Asus
Acer
HP
Dell
Každý rok nový model, bez starostí
Pravidelně nové modely zařízení včetně pojištění a dalších služeb. Žádný úvěr, žádné splátky, prostě používáte.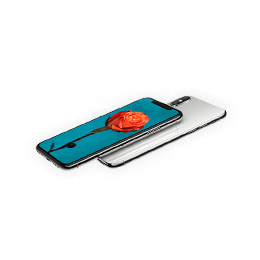 iPhone Xs
pojištěný proti rozbití a krádeži
2. rok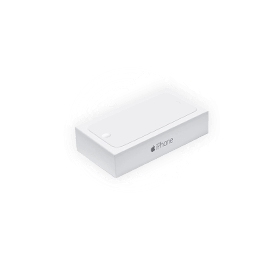 Nový iPhone
pojištěný proti rozbití a krádeži
3. rok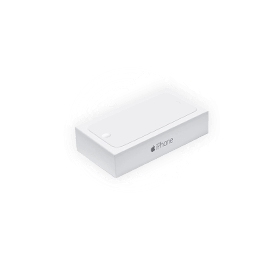 A další nový iPhone
pojištěný proti rozbití a krádeži
Dostupný nadstandard, s celým servisem

Stále nejnovější přístroj. Nemusíte mít strach z poškození nebo krádeže. Prostě používáte.
Pravidelně dostáváte nové modely telefonů nebo počítačů

Nový mobil každý rok, nový počítač či tablet každé dva roky

V ceně získáváte pojištění a rozšířenou záruku

Nechtěného rozbití nebo krádeže se už nemusíte bát

Obal na přístroj a další výhody

Alza NEO není jen samotný přístroj

Žádné čekání na opravu nebo reklamaci

Při poruše dostanete do 3 dnů nové zařízení
Alza NEO naleznete i v katalogu Alza.cz
V levém sloupci parametrů naleznete filtr Alza NEO, v detailu zboží pak můžete přístroj jednoduše objednat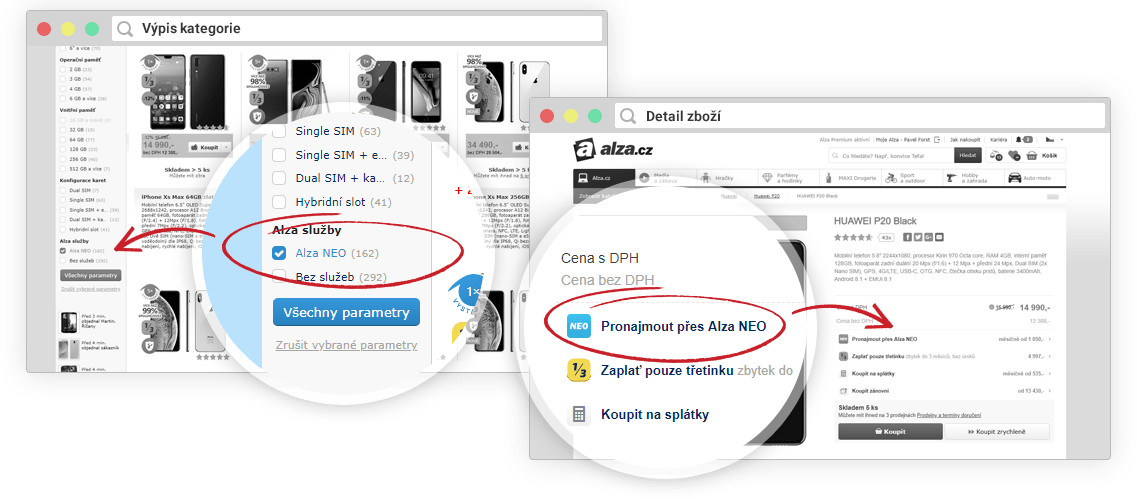 Alza NEO je také pro firmy
Vy podnikáte, my se staráme o vaši firemní elektroniku.
Proč by vaše firma měla používat Alza NEO?
Optimalizujete firemní cashflow.
Vaši zaměstnanci mají neustále funkční mobily, počítače či tablety, stále aktuální modely.
Nikde nic nepřebývá, nikde nic nechybí. Máte přesně tolik elektroniky, kolik potřebujete.
Co všechno můžete v Alza NEO mít?
Mobily, notebooky a tablety, vše pojištěné proti rozbití a krádeži.
Jakékoliv jiné zboží z nabídky Alza.cz, nechte si od nás připravit cenovou nabídku na zboží, které potřebujete.
Volitelně, podle přání vašeho IT oddělení, předinstalaci operačního systému do počítačů nebo vzdálené správy do mobilů, závoz na vaše pobočky po Evropě, servis a další služby.
Mám zájem o nabídku na míru
Proč vstoupit do programu Alza NEO. 3 nejčastější dotazy majitelů firem:
Mobily a počítače se kupují, všechny firmy to tak přece dělají!

Před 20 lety všichni kupovali firemní auta. Dnes je všichni řešíte přes operativní leasing, protože jste si spočítali, že je to pro vás výhodné. Ti, kdo pochopí, že řešit i elektroniku jinak, než tradičním nákupem, se jim vyplatí, získají konkurenční výhodu. Program Alza NEO přináší benefity operativního leasingu do oblasti firemní elektroniky.

Mobily a počítače jsou klíčové pracovní nástroje. Potřebujeme je mít pod naprostou kontrolou!

Souhlasíme. Program Alza NEO proti tomuto požadavku nejde. Nikdo vám nebude říkat, co máte s přístroji dělat, my pouze budeme za pravidelný měsíční poplatek zajišťovat, aby všichni vaši lidé měli stále funkční moderní přístroje.

Mobily a počítače kupujeme, protože až je přestanou používat naši zaměstnanci, můžeme je prodat a mít z nich další zisk

Teoreticky ano, ale v praxi to nefunguje. Opravdu umíte prodat použitý mobil a notebook tak, aby vás čas, který prodejem strávíte, nestál víc, než kolik získáte na tržbě? Není mnohem pravděpodobnější, že nepoužívané přístroje skončí u ajťáků ve skladu?
Mám zájem o nabídku na míru
3 důvody, proč vstoupit do programu Alza NEO
Zkušenosti našich zákazníků

František Novák
Plzeň
Pro svou firmu využívám Alza NEO. Máme přes tento program už více jak 10 telefonů. Je to levnější, než u operátora.

Pavel Kameník
Liberec
Každý rok mi dají nejnovějšího miláška. Nemusím se o nic starat, o vše se postará Alza. Jsem nadšený!

Jiřina Davidová
Jihlava
Využívám tuto službu, mám notebook a telefon, platím jen zlomek ceny měsíčně a pravidelně dostanu nové modely.

Honza Tůma
Praha
Nechtěl jsem platit desetitisíce naráz. A splátkové firmy nesnáším, hlavně kvůli těm nehorázným úrokům. Alze dám tisícovku měsíčně a žádné úroky neplatím. A telefon mohu vrátit, kdykoli budu chtít.
Často kladené dotazy
Kdy a jak dostanu přístroj?

U vybraných produktů na stránkách Alzy vyberete volbu koupě přes Alza NEO a vyplníte nezbytné informace v košíku, včetně samotné žádosti o vstup do programu. Do 2 dní se Vám ozveme a pokud splníte podmínky programu, vybraný přístroj Vás bude čekat na Vámi vybrané prodejně. Po úhradě prvního měsíčního poplatku (kartou v košíku či na prodejně) podepíšete předávací protokol a hned si jej můžete odnést.

Jaké jsou podmínky vstupu do programu?

Pro fyzické osoby je podmínkou dovršení věku 18 let. Pak už jen zbývá podat žádost o členství, vyplnit zde pravdivé údaje a čekat, až Vás kontaktujeme a dohodneme si termín převzetí přístroje. Členství však není právně nárokové a Alza si vyhrazuje právo Vám členství v programu nenabídnout. Důvody bohužel sdělovat nemůžeme. I v tom případě si stále můžete vzít přístroj například na splátky a zakoupit k němu pojištění.

Mou žádost jste schválili, kdy přístroj dorazí na prodejnu?

Pokud jsme žádost schválili dopoledne, tak by měl dorazit na prodejnu během příštího pracovního dne. Až bude na prodejně, dostanete od nás SMS a e-mail. V jiném případě se Vám ozveme na e-mail.

Kdy a jak mohu zařízení vyměnit?

Mobilní telefon můžete vyměnit nejdříve po uplynutí 12 měsíců a nejpozději do 24 měsíců. Nemusíte měnit přístroj přesně po roce, můžete jej vyměnit, až vám to bude nejlépe vyhovovat. Stačí, když nám napíšete požadavek přes náš

kontaktní formulář

. Vrácení starého a přijetí nového přístroje bude probíhat najednou na naší prodejně, kterou si vyberete. Můžete také požádat o přenos dat do nového zařízení na prodejně.

Mohu přístroj vrátit a členství zrušit?

Ano, přístroj můžete vrátit a členství v Alza NEO ukončit kdykoliv po uplynutí 6 měsíců u mobilního telefonu, resp. 18 měsíců u notebooku, PC a tabletu. Zrušení nahlásíte přes

kontaktní formulář

. Zařízení poté stačí přinést na kteroukoliv naši prodejnu.

Mohu si příště vzít dražší nebo levnější přístroj?

Můžete si vzít naprosto jakýkoliv přístroj z aktuální nabídky na Alze.

Kdy budou v nabídce nové řady iPhonů, Samsungů a dalších značek?

Přednost pro nové modely žádaných zařízení mají vždy stávající účastníci programu Alza NEO, jimž měníme přístroje. Ti si nové modely rezervují už více než dva měsíce a dostanou je jako první. Jsou-li dostupné skladové zásoby, nové modely lze pronajímat okamžitě po naskladnění.

Co mám dělat, pokud se přístroj pokazí?

Dáme Vám do tří pracovních dnů náhradní přístroj stejných parametrů i barvy a opotřebení. Stačí, když nám poruchu nahlásíte přes

kontaktní formulář

. Informaci o poruše předem chceme proto, abychom mohli na prodejnu včas zaslat náhradní přístroj a ten na Vás již čekal.

Co pokud přístroj poškodím?

Přístroj opravíme, nebo dostanete nový, nebo zánovní, stejných parametrů i barvy. Zavoláte nám (naše číslo je 225 340 777) a nahlásíte záruční událost. Pokud uznáme, že spadá do rozšířené záruky, do tří pracovních dní na Vás bude čekat na prodejně.

Co pokrývá rozšířená záruka - ochrana proti nechtěnému rozbití a krádeži?

Krádež a nešťastnou náhodu s důsledkem rozbití zařízení. Pozor, z rozšířené záruky je vyloučeno například úmyslné poškození (například když hodíte přístroj o zem) nebo pokud jste mohli rozbití předcházet (např. měli jste ho bezpečně uložen v kapse. Během krádeže také nesmíte mít sníženou pozornost například vlivem alkoholu. Můžete uplatnit pouze jednu událost za celou dobu smlouvy. Přečtěte si prosím podrobné

podmínky programu Alza NEO

.

Když měním přístroj, dostanu nový kus?

Ano, vždy dostanete nový kus.

Když vrátím starý přístroj, garantujete mi smazání dat?

Ano, na všech přístrojích provádíme kompletní návrat do továrního nastavení přesně dle manuálu výrobce, při němž výrobce garantuje smazání dat.

Co se dál děje s vrácenými přístroji?

Vrácené přístroje se buď prodávají jako použité, nebo repasují a prodávají jako repasované.

Musím se vázat na nějakého mobilního operátora?

Ne, členství je zcela nezávislé od operátorů. Můžete využívat kohokoliv. Zařízení není nijak blokováno.

Mohu si přístroj odkoupit?

Přístroj nelze odkoupit a přístroj po celou dobu patří Alze. Jde o formu služby (členství v programu Alza NEO), které Vám zajišťuje stále dostupný nejnovější model zařízení. Členství však můžete ukončit a koupit si přístroj nový, nebo i zánovní.

Na webu jste změnili ceny, budu teď platit jinou cenu?

Pokud už přístroj od nás máte, cena vám zůstává stále stejná, jakou platíte od začátku. Cena na webu platí jen pro nové zákazníky. Až si příště budete brát nový model zařízení, dostanete zase aktuální cenu, která je právě na webu.

Co když nebudu platit včas?

Pokud za přístroj nebudete hradit pravidelné poplatky řádně a včas, tak:

Spácháte trestný čin zpronevěry a budeme na vás nuceni podat trestní oznámení. Vlastníkem přístroje je totiž po celou dobu naše společnost.
Předáme případ advokátovi k vymáhání.
Vedle doplacení kupní ceny po vás budeme navíc požadovat úhradu úroku z prodlení a náhradu nákladů za vedení soudního, popř. i exekučního řízení.
Budete zařazeni do registrů dlužníků vedených společnostmi Intrum Czech, s.r.o. (IČO 27221971), LogiCall Česká republika, s.r.o. (IČO 26849551), Intrum Slovakia, s.r.o. (IČO 35831154) a LogiCall Slovensko, s.r.o. (IČO 44151721).
Podělte se s ostatními
Zaujala vás nabídka? Tak proč si ji nechávat jen pro sebe. Udělejte radost známým.