S naparovačom odevov bielizeň vyhladíte už na ramienku. Poradí si so spoločenskými odevmi aj nepoddajnými látkami. Využiť ho však môžete v celej domácnosti. Oživí a vyhladí závesy alebo vyrovná poťahy na gaučoch. Dajte s naparovačom odevov nepoddajným tkaninám na frak.
Continue
Typy naparovačov odevov
Ručný naparovač – vyznačuje sa jednoduchou manipuláciou. Umožňuje využitie doma aj na cestách. Jeho výkon je o niečo nižší v porovnaní s naparovačom so stojanom, má menšiu zabudovanú nádobu na vodu, takže sa musí často dopĺňať.
Naparovač so stojanom – ponúka zabudovaný vešiak na zavesenie odevu. Je rozmerovo väčší, zložitejšie sa s ním manipuluje, ale vydrží žehliť dlhšiu dobu v závislosti na veľkosti zásobníka na vodu.
Ručný naparovač
Naparovač so stojanom
Na čo sa zamerať pri výbere naparovača odevov
Výstup pary
Vyšší výstup pary = rýchlejšie a jednoduchšie zahladenie záhybov na odevoch.
Výstup pary udáva, v akom množstve para z naparovača nepretržite vychádza.
Na použitie v domácnosti je bežná hodnota výstupu pary 20 – 40 g/min.
Výkon
Čím vyšší výkon, tým lepšie si naparovač s tkaninou poradí. Najvýkonnejšie naparovačky odevov sa môžu použítvat aj na vyrovnávanie viacerých vrstiev oblečenia naraz. Na ramienku košeľu vyžehlíte na prvé naparenie a ušetríte tým veľa času a manipulácie s oblečením.
Výkon v rozmedzí 1 000 W – 1 500 W sa hodí na žehlenie jemnejších materiálov.
Výkon nad 1 500 W sa hodí na žehlenie všetkých textílií, zvládne aj obleky alebo vlnu.
Výkon okolo 2 000 W si poradí so všetkými materiálmi oblečenia aj s viacerými vrstvami oblečenia naraz.
Veľkosť nádoby na vodu
Väčší objem nádoby na vodu umožňuje dlhšie používanie prístroja.
Objem zásobníka na vodu sa pohybuje v rozmedzí od 0,20 l do 2 l, prípadne aj viac.
Objem 600 ml znamená dostatok pary na dobu žehlenia v rozmedzí 30 – 45 minút.
Užitočné vlastnosti
Termostat – umožňuje reguláciu teploty pary, ktorá z naparovača vychádza. Nastavíte si ju v závislosti od typu látky, ktorý potrebujete vyrovnať. Na jemné látky nižšia teplota, na nepoddajné vyššia.
Režim ECO – naparovač sa po dlhšej nečinnosti sám vypne a šetrí energiu.
Stupne intenzity pary – na menej pokrčenú látku stačí nižší stupeň, pre veľmi pokrčené oblečenie využijete vyššiu intenzitu pary. Počet stupňov intenzity sa líši podľa konkrétnych modelov a značiek.
Funkcia automatického čistenia – naparovač sa po stlačení príslušného tlačidla vyčistí. Tým sa predlžuje jeho životnosť. Princíp čistenia sa môže líšiť od modelu aj značky, preto odporúčame funkciu preštudovať v prípade konkrétneho modelu, ktorý vás zaujíma.
Na použitie naparovačov nepotrebujete dosku na žehlenie. Sledujte však hmotnosť. Čím väčší zásobník na vodu, tým ťažšia bude manipulácia s naparovačom.
Hide description
Was this information useful?
This form is for collecting Feedback Only. If you have any other inquiries, please our Customer Care team here.
Is something missing or displayed incorrectly? Let us know your suggestions so we can improve the website and customer experience.
Best Deals
1.
Ironing system - manual, vertical and horizontal steam, power consumption 1300W, fast heating up to 1 min, automatic continuous steam output 24g/min, removable water tank 70ml, 2.5m cable, SmartFlow heating plate, brush, heat-resistant bag, colour black-copper
2.
Clothing steamer - power consumption: 1600W, continuous steam output up to 30g/min, aluminium sole plate with ceramic surface, 40-second heat up, 3 steam settings, 3m cable, 200ml removable water tank, brush attachment for tough fabrics, textile extension for fine fabrics , stainless steel door hook, steam button with lock
3.
Clothing steamer - handheld, power: 1300W, steady steam output up to 24g/min, vertical and horizontal steaming, SmartFlow hot plate, fast heating up to 1 min, compact design for comfortable use, storage and travel, removable water tank: 70ml, 3m cable, safe to use even on fine materials such as silk, no need for ironing board, accessory - gloves for holding fabric, brush for thicker fabrics, storage bag (heat resistant)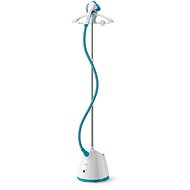 Tefal IT2460E0 Pro Style One
Naparovače odevov
In the category Naparovače odevov on Alza.sk, we currently have a total of 60 products, which you can easily buy online and get quickly delivered. See all of your purchases and make orders on our easy-to-use app.
Enter product name
Note (link, Part number etc.):
Check out products sorted by price starting with the lowest price in the category cheap naparovače odevov
Check out products sorted by price starting with the highest price in the category best sellers, best naparovače odevov
You'll find products sorted by reviews starting from the highest ranked in naparovače odevov reviews