Toustovač predstavuje skvelého pomocníka na prípravu chutných raňajok v podobe hrianok, vaflí alebo grilovanej zeleniny. Pri výbere toustovača sa zamerajte predovšetkým na príkon prístroja, počet sendvičov, ktoré môžete naraz pripraviť, a možnosť výmeny platničiek na pečenie.
Continue
Podľa čoho vybrať toustovač?
Príkon
Všeobecne platí, že čím vyšší príkon, tým bude príprava toastov rýchlejšia. S toustovačom s vyšším príkonom totiž nebudete musieť na rozohriatie prístroja príliš dlho čakať.
Veľkosť toustovača
Určuje, koľko štvorcových sendvičov je možné v toustovači naraz pripraviť, zvyčajne 1, 2 alebo 4 sendviče. Menšie domácnosti si vystačia s 1 až 2 hriankami, na prípravu väčšieho množstva sendvičov odporúčame toustovače, ktoré zvládnu naraz pripraviť až 4 alebo viac sendvičov.
Dosky na pečenie
Pri výbere toustovača sa tiež zamerajte na to, či má vymeniteľné dosky na pečenie alebo nie. Toustovače s vymeniteľnými platničkami ponúkajú možnosť výmeny jednotlivých platničiek na prípravu rôznych druhov jedál, ako sú napr. vafle, francúzske toasty, klasické trojhranky alebo grilované mäso či zelenina. K dispozícii sú multifunkčné hriankovače so systémami 2 v 1 alebo 3 v 1, vďaka ktorým si pripravíte rôzne druhy pochúťok. Na výber sú najčastejšie sendvičovacie, vaflovacie a grilovacie platničky. Stretnúť sa môžete aj so špeciálnymi platničkami na lievance, oblátky či panini.
Toustovače s výmennými doskami sú veľmi praktické – ľahko ich oddelíte od tela hriankovače a samostatne umyjete. Ich veľkou výhodou je, že sa ľahko udržujú a ušetrí aj miesto v kuchyni, pretože namiesto niekoľkých spotrebičov vám bude stačiť len jeden.
Materiál dosiek na pečenie
Materiál dosiek by mal byť vysokoodolný, aby zvládol vysokú teplotu pri pečení. Zvyčajne sa dosky vyrábajú z kvalitného teflónu, ktorý sa neodlupuje. Nepriľnavá povrchová úprava zase zabezpečí, že sa vám jedlo na platničku neprilepí a nepripáli, údržba prístroja tak bude oveľa jednoduchšia.
Skvelým a praktickým pomocníkom je aj svetelný indikátor, ktorý signalizuje pripravenosť sendvičovača na pečenie hrianok. Rozsvietením zelenej kontrolky sendvičovač oznámi, že je pripravený a vy môžete začať s prípravou chutných raňajak.
Špeciálne vlastnosti a funkcie toustovačov
Tepelná regulácia – vďaka tejto funkcii si budete môcť nastaviť, ako chcete mať hrianky prepečené.
Umývateľnosť v umývačke – umožňuje jednotlivé platničky umývať v umývačke riadu. Údržba sendvičovača tak bude veľmi jednoduchá.
Ochrana proti prehriatiu – pri nebezpečnom prehriatí prístroja v priebehu používania dôjde k jeho automatickému vypnutiu.
Protišmykové nožičky – zaistia stabilitu prístroja na každom povrchu.
Bezpečnostný pánt – zabráni svojvoľnému otvoreniu prístroja.
Hide description
Was this information useful?
This form is for collecting Feedback Only. If you have any other inquiries, please our Customer Care team here.
Is something missing or displayed incorrectly? Let us know your suggestions so we can improve the website and customer experience.
Best Deals
1.
Sandwich Maker - 700W, 4in1 sandwich maker, waffle maker, grill, snacks, removable dishwasher-safe plates, stainless steel mantle
2.
Sandwich Maker - 3-in-1, power: 800W, 3 exchangeable plates with high-quality non-stick surface (triangular toasts, grilling and waffles), automatic temperature control, lid with safety lock, anti-slip feet, light indicator of operation, cable length: 0.75m
3.
Sandwich Maker - 700W, multifunctional 3-in-1 device - for waffles, triangular sandwiches and paninis; removable plates with non-stick surface, dishwasher-safe, 2 control lights, vertical storage
Toustovače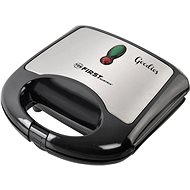 First Austria FA5337-6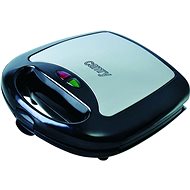 Camry CR3024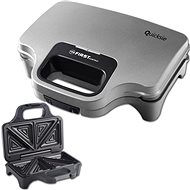 First Austria FA5338-6
Adler AD3040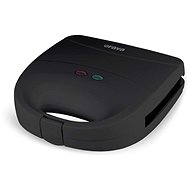 Orava ST-106 B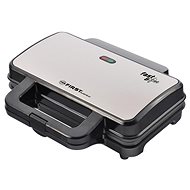 First Austria FA5337-5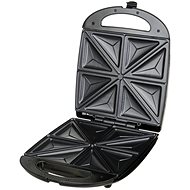 Camry CR3023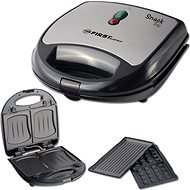 First Austria FA5342-3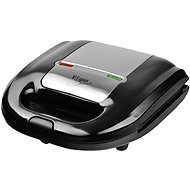 Vigan Mammoth SVC2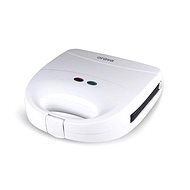 Orava ST-106 W
Toustovače
In the category Toustovače on Alza.sk, we currently have a total of 80 products, which you can easily buy online and get quickly delivered. See all of your purchases and make orders on our easy-to-use app.
Toustovače – proved brands
Enter product name
Note (link, Part number etc.):
Check out products sorted by price starting with the lowest price in the category cheap toustovače
Check out products sorted by price starting with the highest price in the category best sellers, best toustovače
You'll find products sorted by reviews starting from the highest ranked in toustovače reviews