Chladiče na procesor majú za úlohu odvádzať stratové teplo a priebežne tým znižovať teplotu procesora. Hoci sa väčšina procesorov dodáva so základným chladičom, jeho výkon je obmedzený a nákup chladiča tretej strany bude vždy znamenať zníženie teplôt aj hluku. Nižšie teploty procesora znamenajú jeho dlhšiu životnosť a potenciál na pretaktovanie.
Continue
Typy procesorových chladičov
Vzduchové chladiče CPU
Ak hľadáte výkonnejšiu alternatívu k boxovanému chladiču za rozumné peniaze, vzduchové chladiče procesorov sú pre vás tým pravým. Zvyčajne ide iba o jednoduchú kombináciu veľkej pasívnej časti a ventilátora.
Vzduchové chladiče majú celý rad výhod. Medzi hlavné patrí nízka cena, spoľahlivosť a jednoduchá inštalácia. Sú ale spravidla veľké a niekedy môžu kolidovať s ďalšími komponentmi, typicky s modulmi operačnej pamäte. Pasívne bloky vzduchových chladičov často vážia aj kilogram a tie väčšie už nemusia byť kompatibilné s radom bežných PC skríň. Rozmery ich často vyraďujú aj z kompaktných zostáv. Vzduchové chladiče na svoju správnu funkčnosť potrebujú silný prúd vzduchu, ktorý zvyčajne v miniatúrnych zostavách nie je.
Vodné chladiče CPU
Ak sa bavíme o vodných chladičoch na procesor, poukazujeme predovšetkým na riešenie All-in-One, ktoré ponúka kompletný chladiaci systém pripravený na okamžité použitie. Takéto chladenia majú výhodu v rozmeroch. Celkovo síce nie sú nijak kompaktné, no miesto, v ktorom sa kvapalina ochladzuje, takzvaný radiátor, sa však nenachádza v mieste procesora, ale možno ho umiestniť na rôzne pozície v PC skrini, kam teplo dopravuje kvapalina. Vďaka tomu je chladenie flexibilné a môžete ho umiestniť aj do stiesnených priestorov.
Vodné chladenie však nie je možné namontovať do všetkých skríň, ale len do modelov, ktoré sú na jeho montáž prispôsobené. Je ich značné množstvo a môžete si ich v zodpovedajúcej kategórii vyfiltrovať podľa parametra "Podpora vodného chladenia". Vodné okruhy sú konštrukčne oveľa zložitejšie a krehkejšie, preto sa s ich použitím spája viac rizík, ako ktorým budete vystavení s chladičom vzduchovým. Odmenou vám potom bude efektnejší aj efektívnejší systém chladenia.
Parametre
Max. rýchlosť – maximálna rýchlosť ventilátora chladenia udáva najvyššie množstvo otáčok, ktoré je ventilátor schopný vykonať za jednu minútu. Vyššia rýchlosť spravidla znamená lepšie chladiace schopnosti, tiež ale vyššiu hlučnosť, preto má ako samostatne stojaci parameter len obmedzenú výpovednú hodnotu.
Max. hlučnosť – hodnoty hlučnosti chladenia meriame v decibeloch (dB) a maximálna hodnota platí pri maximálnej rýchlosti.
Prietok vzduchu – prietok vzduchu definuje reálne schopnosti ventilátora, keď príde na pretlačenie vzduchu. Používajú sa dve hlavné jednotky, kubické stopy za minútu (CFM) a kubické metre za hodinu (m3/h). Optimálny ventilátor je taký, ktorý dosahuje čo najvyšší prietok vzduchu pri čo najnižšej hlučnosti.
Automatická regulácia otáčok – procesorové chladiče s automatickou reguláciou otáčok menia rýchlosti ventilátorov sami na základe aktuálnych teplôt komponentov.
Manuálna regulácia otáčok – rýchlosť ventilátorov chladičov CPU s manuálnou reguláciou možno meniť manuálne. Na to zvyčajne slúži posuvný prepínač na samotnom ventilátore. Aj napriek tomu však možno regulovať rýchlosť väčšiny týchto chladičov pomocou PWM.
Bez regulácie otáčok – ventilátory chladičov bez regulácie otáčok sa točia konštantnou rýchlosťou, ktorú nemožno meniť.
Socket – v tomto kontexte sa bavíme o sockete procesora, na ktorý sa chladič CPU montuje. Chladiče sú často univerzálne, nie je to však pravidlom, preto radšej využite filter, v ktorom môžete vybrať konkrétny socket vášho procesora.
Hide description
Was this information useful?
This form is for collecting Feedback Only. If you have any other inquiries, please our Customer Care team here.
Is something missing or displayed incorrectly? Let us know your suggestions so we can improve the website and customer experience.
Best Deals
1.
CPU Cooler - socket 775/ 1150/ 1151/ 1155/ 1156/ 939/ AM2(+)/ AM3(+)/ AM4/ FM1/ FM2(+), 2x heatpipe, 100mm fan 4pin, 800-2000 RPM, 8.9-21dBA, 110x82,5x135mm
2.
Liquid Cooling System - closed loop set, for socket 1150/ 1151/ 1155/ 1156/ 1366/ 2011/ 2011-3/ AM3(+)/ FM1/ FM2, radiator dimensions 315mm x 143mm x 30mm, 2 x 140mm fan, 500-1800rpm, variable pump speed 1000-2800rpm
3.
Liquid Cooling System - complete system, for the socket 1150/ 1151/ 1155/ 1156/ 2011/ 2011-3/ 2066/ AM2(+)/ AM3(+)/ AM4/ TR4/ FM1/ FM2(+), dimensions of the radiator 394x120x27mm , 3x 120mm fan, 500-2000rpm, variable pump speed settings 1600-2800rpm
Chladiče CPU
Srovnali jsme pro vás 12 vzduchových chladičů pro procesory do 1 200,–. Testovali jsme hlučnost a výkon...
V dnešním článku se podíváme na to, jak a čím měřit teplotu komponentů v počítači...
Profesionálům nebo vášnivým hráčům už klasické vzduchové chlazení komponentů počítače zkrátka nemusí...
Fractal Desing Celsius přináší i do světa vodního chlazení preciznost švédských inženýrů. Na výběr jsou...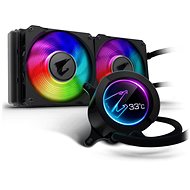 GIGABYTE Aorus Liquid Cooler 240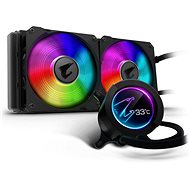 GIGABYTE Aorus Liquid Cooler 280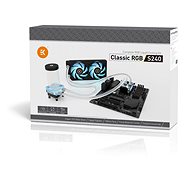 EK Water Blocks EK KIT RGB S240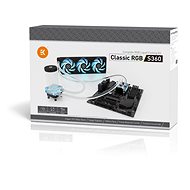 EK Water Blocks EK-KIT RGB S360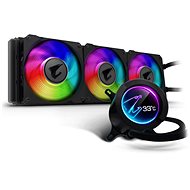 GIGABYTE AORUS Liquid Cooler 360
Chladiče CPU
In the category Chladiče CPU on Alza.sk, we currently have a total of 148 products, which you can easily buy online and get quickly delivered. See all of your purchases and make orders on our easy-to-use app.
Enter product name
Note (link, Part number etc.):
Check out products sorted by price starting with the lowest price in the category cheap chladiče CPU
Check out products sorted by price starting with the highest price in the category best sellers, best chladiče CPU
You'll find products sorted by reviews starting from the highest ranked in chladiče CPU reviews