Here you will find a wide selection of tools that range from those best suited for hobbies to tools that deliver superior performance for the most demanding tasks.
Continue
Types of Cordless Tools
Cordless Screwdrivers

Cordless screwdrivers are suitable for less demanding tasks, as their level of performance is relatively low. They can handle the assembly of smaller projects and screws for mounting, but we do not recommend it for professional use. Their main draw is their compact size and light weight, of about 300 grams, so they are great for work in tight spaces and are easy to transport.

Cordless Power Drills

These tools are bigger and more powerful than cordless screwdrivers. Cordless power drills can handle more demanding jobs and are more versatile - they can screw and drill. If you need to drill a hole from time to time, or screw a large bolt into wood, go for the drill that can do both. When choosing, remember that drills are considerably heavier compared to screwdrivers, weighing about 1.6 pounds, and they are more expensive.

Cordless Hammer Drills

Powerful hammer drills can be used to drill holes in both panelling and stone, which is where an ordinary drill meets the end of its usefulness. Cordless hammer drills are a huge benefit especially in demanding working conditions, such as those without access to a power source.

Cordless Saws

Cordless saws are comparable to smaller electric saws, suitable for less demanding work in the garden and around the house, such as trimming trees or preparing wood for the fireplace. The biggest advantage of having a battery-powered tool is that you avoid the hassle of lengthy cables and a stationary power source. It will be easy to appreciate the straightforward use and dexterity of the battery. The main drawback is a heavier tool which can be attributed to the battery.

Cordless Grinders

Cordless grinders can be used by all home-grown do-it-yourselfers who do not want to strain themselves over a task that can be accomplished by simpler means. Cordless grinders can be used for grinding, cutting stone, metal, plastics, tiles and other building materials. The vibrating and eccentric grinder can be used for the fine grinding of wood or removal of old paint. Again, the disadvantage of a cordless grinder is the added weight of the rechargeable battery.

Cordless Multifunction Tools

Multifunction tools combine the abilities of saws, grinders and drills in one tool. Multifunction tools have replaceable bits that allow them to cut, drill, sand and polish. Speed control is a standard for multifunction tools, so you can adapt performance to your exact needs. Multifunction tools are particularly suited to delicate work, detailed trimming, bobbing and polishing of a variety materials.
The Battery - The Power Source of Your Tools
The battery is one of the most important components of a cordless tool for one simple reason - it's impossible to use the battery-powered tool without it. For that reason, you should give some consideration to the type of battery you choose for your tools. The most important factors to keep in mind are:
Battery capacity - is written in ampere-hours (Ah or mAh). The higher the capacity of the battery, the longer it will last to power the tool on a single charge
Battery voltage - is given in volts (V). As a rule, the higher the voltage the battery has, the more power it can deliver.
i
Battery life is limited - if you plan to use your tools regularly, we recommend that you purchase a spare replacement battery. Once the memory effect has lowered its charge capacity to an inconvenient level, it can simply be replaced.
The Most Common Types of Batteries
Li-Ion - this is the most common type of battery. Li-Ion batteries have a high capacity and are light-weight at the same time. They do not suffer from the memory effect and are found in some of the more expensive models of tools.
NiCd - these batteries are found in powerful drills because they have an excellent current carrying capacity. However, they suffer significantly from the memory effect.
NiMH - this type represents a certain compromise between Li-Ion and NiCd batteries. Compared to NiCd, NiMh batteries are less affected by the memory effect, but their current capacity is not so high. The price of NiMH batteries is significantly lower than their Li-Ion counterparts.
If you don't use your battery-powered tools very often, you should consider purchasing a classic power tool. A battery that is used only sporadically loses its capacity significantly faster than a battery that is used regularly. Basic maintenance of your rechargeable battery will keep it functioning at its max capacity for much longer. Get tips on how to take care of your tools and their batteries here: How to Use NiCd and NiMh Batteries.
Hide description
Was this information useful?
This form is used only for evaluating the information in the description above.
If you have any question about our products, services, transport or any other request, please contact our customer support.
What should be improved? Is anything missing here? Is anything wrong? Share it with us.
Best Sellers
1.
2.
Battery - with charge status indicator, 20 V, 2.0 Ah, 12,6×8,4×5,2 cm, weight: 0,5kg, 3 year warranty
3.
Battery - with charge status indicator, 20 V, 4.0 Ah, 12,6×8,4×7,1 cm, weight: 0,8 kg, 3 year warranty
Cordless Power Tools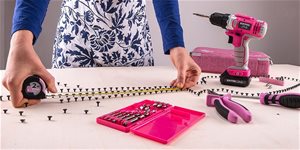 Pro všechny akční dámy představujeme nářadí pro ženy, se kterým zvládnete drobné i složitější opravy i úpravy...
Aku nářadí není už jen hudba budoucnosti. Stále častěji se s ním můžeme setkávat nejenom v domácnosti, ale i...
Cordless Power Tools
In the category Cordless Power Tools on Alza.sk, we currently have a total of 778 products, which you can easily buy online and get quickly delivered. See all of your purchases and make orders on our easy-to-use app.
Check out products sorted by price starting with the lowest price in the category cheap cordless Power Tools
Find products sorted from the most expensive to the cheapest in the category most expensive cordless Power Tools
Check out products sorted by price starting with the highest price in the category best sellers, best cordless Power Tools
You'll find products sorted by reviews starting from the highest ranked in cordless Power Tools reviews