Operating memory (RAM) serves a processor by quickly storing data from running applications that are acessed often by the CPU. A greater memory capacity in a computer results in smoother program and game performance.
Continue
Operating Memory According to Device
PCs - Their standard operating memory is in a DIMM format. Differences are found in basic parameters, such as capacity, frequency and timing.
Servers - also use a DIMM operating memory format. Instead of high speeds, they primarily aim for optimal stability and flawless data retention.
Laptops - use a reduced SO-DIMM operating memory format.
Memory Modules Performance
DIMM - Dual In-Line Memory Module (DIMM) is the basic memory module format and is primarily designed for personal computers, servers and workstations.
SO-DIMM - If you need RAM on your laptop, SO-DIMM is the solution. These are smaller standard memory modules. The SO abbreviation means small outline.
Type of Memory
Memory Type - The type of memory must be compatible with the motherboard and the processor hardware. Otherwise the modules with these components will not work. Each motherboard clearly states the compatible memory in its description. Memory standards are not always mutually compatible.
Memory Frequency - Memory frequency is a parameter defining the speed. Memory speed is measured by the ability to read and write data. Faster memory is always better, but it is not always crucial for all applications.
Voltage - Lower voltages result in lower memory module power consumption. The voltage level must support the motherboard. Modern DDR4 operating memory reaches significantly higher frequencies despite a lower voltage.
DDRL - These memory modules support a reduced voltage level.
| | | |
| --- | --- | --- |
| Type (standard) | Memory Frequency | Voltage (DDR / DDRL) |
| DDR | 200-400MHz | 2.5-2.6V |
| DDR2 | 400-1066.67MHz | 1.8V |
| DDR3 | 800-2133.33MHz | 1.5/1.35V |
| DDR4 | 2133.33-4266.67MHz | 1.2/1.05V |
Timing - Timing or latency is the interval that elapses between the command being sent by the controller and the moment when the data is available at the memory output. The unit of these values is the frequency cycle.
Configuring Operating Memory Chips
Configuration in terms of memory means how the memory chips organise and connect together. One rank, which is the name for a block of chips, communicates through a 64-bit data bus. If the module has more than one rank, each has one whole data bus. This means that more ranks are equal to higher speeds. However, when it comes to the dual-rank memory modules, the impact on performance is not critical and is mostly a difference of a few percentage points. Dual-rank and single-rank modules are usually found in ordinary personal computers. Quad-rank modules are mostly found in server operating memory domains.
Memory Capacity
| | |
| --- | --- |
| Memory Capacity | Best Used For |
| 4GB | office work; multimedia use; playing casual games |
| 8GB | playing all types of games; more demanding applications |
| 16GB | optimal memory for gaming computers |
| 32GB or more | rendering, modelling and using graphics software; virtualisation |
Number of Modules in Package
The memory may be made up of one or more modules. For example, 16GB of memory can be comprised as 1×16GB, 2×8GB or 4×4GB. Fewer modules leave room for future scalability. More modules, on the other hand, allow for a wider memory data bus and faster memory communication.
Memory Channels:
Modules are plugged into channels where the operating memory controller communicates data. If each module is connected to a different channel, it can use the entire bit width, which means it can communicate faster.
Dual-channel - The memory is connected to two channels. There is higher performance gain when compared to a single-channel.
Quad-channel - The operating memory communicates with four channels. The performance gain over a dual-channel can only be seen when using certain applications.
Other Memory Features:
For Apple - these operating memories are compatibile with Apple computers.
Low Profile - The smaller heatspread allows easier compatibility with a CPU cooler.
XMP - XMP support means that the memory has a preset profile that adjusts its specifications. Memory parameters that have XMP exceed the general standards.
XMP 2.0 - XMP 2.0 means that the memory has two optional profiles for automatic overclocking.
ECC - ECC operating memory automatically repairs stored data errors.
Unbuffered - standard memory intended primarily for personal computers.
Fully buffered - memory designed primarily for servers. They are distinguished by an additional chip that helps with organising data.
Registered - The memory labelled as such reads data into the registry between the controller and the memory itself. The result is increased stability, but it's also compensated by a higher latency.
Registered with parity - These chips contain parity bits that can detect errors in stored data.
Hide description
Was this information useful?
This form is used only for evaluating the information in the description above.
If you have any question about our products, services, transport or any other request, please contact our customer support.
What should be improved? Is anything missing here? Is anything wrong? Share it with us.
Best Sellers
1.
RAM - 2x8GB, PC4-25600, CL16-18-18, voltage: 1.35V, passive cooling, XMP 2,0 and Single Rank
2.
RAM - 2x16GB, PC4-28800, CL18-22-22, voltage: 1.35V, passive cooling, XMP 2,0 and Single Rank
3.
RAM - 1x8GB, PC4-25600, CL22-22-22, voltage: 1.2V, Unbuffered
Computer RAM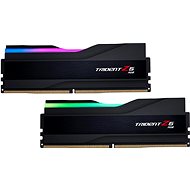 G. SKILL 32GB KIT DDR5 6800MHz CL34 Trident Z5 RGB Black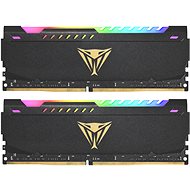 Patriot Viper Steel RGB 16GB KIT DDR4 3600MHz CL18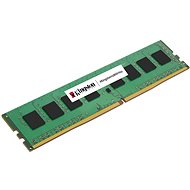 Kingston 16GB DDR4 3200MHz CL22 Single Rank
Computer RAM
RAM system memory
The RAM memory is an essential part of every computer. The exact term is RWM - RAM (RWM - Read Write Memory, RAM - Random Access Memory). It refers to the fact that this type of memory can be repeatedly written to and read from and can also be accessed randomly. The capacity and speed of the installed memory greatly affects the performance of your computer. A computer can use several memory modules at once. These hold all the instructions that the computer's processor executes, i.e. the data of all programs you use. The data is not stored permanently in the RAM memory. Each time the computer shuts down, the whole memory is completely erased. The system memory is used for this purpose because it is much faster than a standard hard drive and it provides significantly shorter access time. This ensures lightning-fast data transfers between the memory and the processor. Generally speaking, the more RAM you have, the better performance you get.
The history of operating memory is quite rich. During a relatively short period of time, a large number of technologies were tried and used. For example, in the beginning of its evolution, system memory was made of ferrite. In the 1950s, magnetic drum-shaped memory modules were made. Nowadays, DIMM memory (Dual Inline Memory Module) uses modern semiconductors.

Types of operating memory
System memory can be divided into many different types. Desktop computers and laptops use essentially the same type of memory, but it still differs in dimensions. Most computers and laptops use the DDR (Double Data Rate), DDR2 (currently the most common) or the newest DDR3 memory. These share the basic architecture, but later generations offer better performance. The DDR, DDR2 and DDR3 are not mutually compatible. Therefore, it is necessary to carefully choose what type of memory to buy. When choosing a new memory module, take into consideration what types, capacities, and frequencies are supported by your motherboard.

Other types of memory
There are many other devices labeled as memory. These have, however, a completely different purpose. Apart from RAM, there are memory banks (HDB), memory cards (for data storage, for example in phones), and portable memory sticks (used to transfer data between computers).
Was this information useful?
This form is used only for evaluating the information in the description above.
If you have any question about our products, services, transport or any other request, please contact our customer support.
What should be improved? Is anything missing here? Is anything wrong? Share it with us.
Check out products sorted by price starting with the lowest price in the category cheap computer RAM
Find products sorted from the most expensive to the cheapest in the category most expensive computer RAM
Check out products sorted by price starting with the highest price in the category best sellers, best computer RAM
You'll find products sorted by reviews starting from the highest ranked in computer RAM reviews