Outdoor cameras are notable for their wide-angle and increased resistance against rough weather and shocks. You can snorkel with them, do high-adrenaline sports and take great action videos from the first person view.
Continue
Key parameters when choosing an outdoor video camera
Maximum resolution
Resolution tells you how many horizontal and vertical pixels there are in the image. Generally, the higher the resolution, the more detailed the picture, which makes for better video quality.
Full HD - 1920 × 1080 pixels, currently considered the standard resolution.
Ultra HD - 3840 × 2160 resolution, today's growing trend, gradually replacing Full HD. It features four times more pixels, which affects the resulting file size – an average camera can hold only a short UHD video (then you have to move it to a PC or insert an extra memory card to expand storage.
4K - another modern resolution format is 4096 × 2160, officially known as 4K. Although it contains more pixels than Ultra HD, it does not use the 16:9 aspect ratio, so if you play a 4K video on a wide-screen TV, part of the screen gets framed with slim black bars.
Ultra HD and 4K resolution are worth investing in if you own an Ultra HD TV. It displays video in its full quality and shows every pixel. Higher resolution also comes in handy when working with video in post-production programs–you can cut out a part of the scene and still get a Full HD video. However, processing high-resolution video is rather demanding for hardware.
Maximum framerate
Indicates the number of frames a camera can capture per one second (fps). The more frames, the smoother the video. Standard framerate is 30 fps, though high-end cameras will give you 60 to 120 fps videos at Full HD resolution. When shooting in 120fps, you can capture butter-smooth video even at 4x slow motion. Higher framerates are usually available at lower resolutions.
Sensor resolution
The higher the sensor pixel count, the more detailed photos you get when using photography mode. Resolution in cheaper models ranges between 2-8 Mpx; more advanced models can offer 12 to 21 Mpx.
Weather and damage resistance
Some outdoor cameras need a special housing or case to protect them from water, dust and shocks, others have this protection in-built, which eliminates the problems with muffled sound caused by closed housings. A special housing, however, generally provides better water immersion protection, not to mention that if something does happen, you will only need to replace the housing and your camera will remain unscathed.
Battery life
Typically ranges between 1 and 2.5 hours, but a lot depends on the selected resolution, framerate, GPS use, display settings, and active WiFi connectivity. Many cameras give you the option to replace the battery, so by purchasing an extra battery you get a backup power source. The battery can also be recharged via an USB cable connected to a powerbank.
Useful outdoor camera features
Image stabilisation - eliminates video stutter caused by minute camera shaking.
Display - allows you to keep track of the scene you are shooting and check the captured shots later.
Timelapse - allows you to shoot long events and subsequently process it into a short video.
Continuous shooting - after pressing the shutter button, the camera takes several photographs in quick succession.
GPS - geotags your videos.
WiFi and Bluetooth - allow you to wirelessly connect the camera with an app on your smartphone. It can then serve as a remote control and lets you download images directly.
Hide description
Was this information useful?
This form is used only for evaluating the information in the description above.
If you have any question about our products, services, transport or any other request, please contact our customer support.
What should be improved? Is anything missing here? Is anything wrong? Share it with us.
Best Sellers
1.
Outdoor Camera - with 5,3K/60fps, 4K/120fps, 2,7K/120fps 1080p/240fps, Hypersmooth 4.0 image stabilization in all modes, rear LCD touchscreen, front selfie display, TimeWarp 3.0 time-lapse mode waterproof up to 10 m, MicroSDXC slot, 23 Mpx camera, USB-C, WiFi, Bluetooth, voice control, Li-Ion battery
2.
Outdoor Camera - smart, action, 4K/60fps, touch LCD display, Micro SDHC/SDXC, camera 12Mpx, Wifi, Bluetooth, voice control, Li-Ion battery
3.
Outdoor Camera - waterproof, 4K/60fps, Full HD up to 120fps, 2" touch screen, electronic EIS stabilisation, 16MPx photos, 8× slowmotion in HD, time-lapse mode, microUSB connector, automatic time collection, complete accessories in a box, built-in Wi-Fi and mobile application, remote control
+ FREE Camcorder Battery Lamax worth 14.90 €
Outdoor Video Cameras
GoPro Quik is for action-sharing lovers. Using shots from a GoPro HERO5, it automatically creates a video...
The revolutionary GoPro Karma drone brings a breath of fresh air into the drone category. With a camera...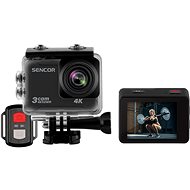 Sencor 3CAM 4K52WR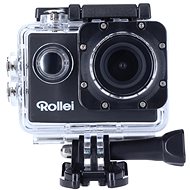 Rollei Actioncam 40s Pro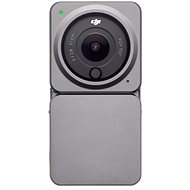 DJI Action 2 Power Combo
Outdoor Video Cameras
In the category Outdoor Video Cameras on Alza.sk, we currently have a total of 52 products, which you can easily buy online and get quickly delivered. See all of your purchases and make orders on our easy-to-use app.
Enter product name
Note (link, Part number etc.):
Check out products sorted by price starting with the lowest price in the category cheap outdoor Video Cameras
Find products sorted from the most expensive to the cheapest in the category most expensive outdoor Video Cameras
Check out products sorted by price starting with the highest price in the category best sellers, best outdoor Video Cameras
You'll find products sorted by reviews starting from the highest ranked in outdoor Video Cameras reviews