Tefal: Quality that Lasts
Tefal develops, innovates and sells household products that make your home the best place to live. It focuses on durable and quality products that help with the preparation of a healthy and nutritionally balanced food. Since 1954, Tefal has been making dishes that are easy to cook with and pans with non-stick surfaces. Tefal and its innovative market ideas also were the first to create a wireless iron.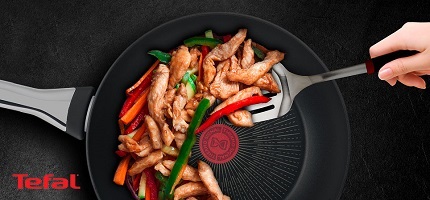 Tefal Kitchenware
Tefal brings you a complete range of pots and pans, including rice cookers. You can rely on the Titanium Excellence non-stick surface technology and the Thermo-Spot® temperature indicators. You can choose from a wide range of cookware for gas cookers and induction hobs. With Tefal Ingenio, you can safely and easily remove the handles with one click and transfer them between pots and pans .
Tefal Electric Grills
With the non-stick surface of a Tefal grill, you can easily achieve the perfect sear and get a great taste with the automatic grilling technology. Do you love the smell of smoked meat? The Tefal outdoor grill will make your meat smell like it's straight from a smokehouse, while the OptiGrill contact grills will quickly prepare anything you put on it. Tefal's open grills also provide a large barbecue area for both meat and vegetables.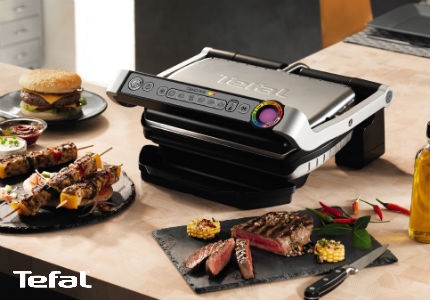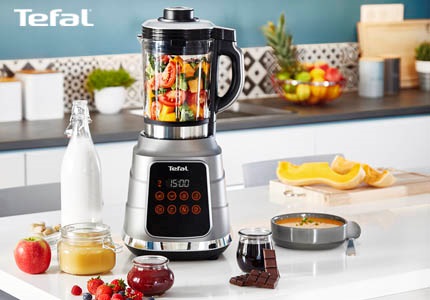 Tefal Kitchen Machines, Mixers and Juicers
Tefal kitchen machines will become indispensable tools in your home. The planetary dual-rotation ensures fast and even dough kneading. You can make anything from bread dough, pizza dough, pie crust, and much more. Working with Tefal kitchen machines, mixers and juicers is always easy and convenient because of the multitude of attachments.
Steam Irons and Garment Steamers
Do you want to have a perfectly ironed linen without spending countless amounts of time ironing? Tefal's steam irons and garment steamers offer long-lasting and powerful steam output - Pro Express Ultimate steam generators produce up to 8 bars of steam. Tefal also has a patented Calc Collector decalcification system, which makes their irons and steamers last for a long time.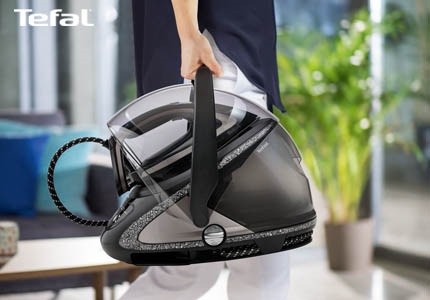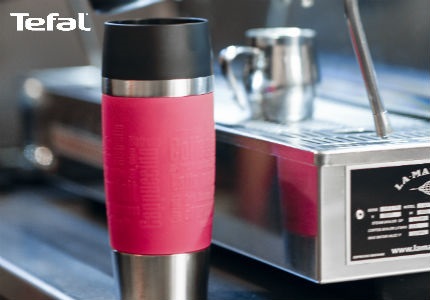 Kettles, Thermos, Thermo Mugs and Food Containters
Whether you want to keep your drinks hot or store your food, you can choose from a wide range of thermos, thermo mugs, and food containers from Tefal. They are certified, made in Europe and 100% safe. Most Tefal products can also be used in a microwave oven and in the freezer. They are also suitable for dishwashers.
10 Year Warranty
Tefal guarantees the quality for most of its products for 10 years. There are 500 service centers around the world, and it is possible to get a repair completed fairly quickly. Tefal guarantees a rapid supply of spare parts over the next 10 years.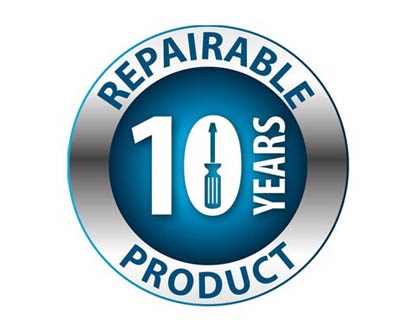 Enter product name
Note (link, Part number etc.):