Once upon a time in a galaxy far, far away....
Master the Force with LEGO® Star Wars™.
LEGO® Star Wars™ brings children many new experiences from a galaxy far, far away. They can enjoy adventures with both the popular heroes of the entire movie saga and brand new characters. Fight battles, make strategic decisions, build models - with LEGO Star Wars, children will relive their favourite movie adventures. What exactly can you look forward to?
Continue
LEGO® Star Wars™ Sets Draw Inspiration from Movies
LEGO Star Wars building kits offer a wide range of fighters, war machines and popular movie locations, such as the fateful duels between good and evil.
LEGO Star Wars – Which Side of the Force Will You Join?
Since the beginning of time, there has been a conflict between the light and dark side of the Force in the LEGO Star Wars galaxy. The Jedi, along with the clones and later the rebels, fight for justice and peace in the universe. The dark side of the Force, on the other hand, seeks to dominate and control every LEGO Star Wars planet. Do you know who you're going to join yet?
i
The Droid Commander is a unique LEGO Star Wars building set which allows kids to build a droid, customise it, and then program it in a simple app. Kids can practise their motor skills, creativity and logical reasoning while programming.
Fly Through the Galaxy in the Fastest LEGO Star Wars Fighter
The LEGO Star Wars galaxy is vast and it takes a long time to travel from place to place, so it's a good idea to have the fastest fighters ready. You can choose between Jedi fighters with astromech droids or LEGO TIE fighters. The fastest, however, is the LEGO Millennium Falcon™ that belongs to the famous smuggler Han Solo and his sidekick Chewbacca.
Passionate Star Wars collectors will enjoy putting the highly detailed LEGO Star Wars sets on display. These include the LEGO Star Destroyer, Mos Eisley Cantina or helmets and characters, such as LEGO Yoda, LEGO Darth Vader and LEGO Stormtroopers. The highlight is the LEGO Star Wars Death Star with 23 figures and 12 interactive rooms from both Episode 4 and 6.
Win the Battle and Save the LEGO Star Wars Galaxy
In LEGO Star Wars, a big battle is about to start between the light side and the dark side - build a battlefield, get ready and defeat your opponent. Recall the unforgettable duel between Obi-Wan Kenobi and Anakin Skywalker on the fiery planet named Mustafar or the war on the moon of Endor. The fate of LEGO Star Wars is in your hands.
i
In addition to building sets based on the nine main movies, you can also find the LEGO Star Wars: The Clone Wars or LEGO Mandalorian sets inspired by the series.
Build Iconic LEGO Star Wars War Machines
No battle is complete without proper battle machines and tanks. Build the LEGO Star Wars AT-AT and defeat the rebels hiding on the ice planet of Hoth. Or transfer yourself into the story of a Mandalorian bounty hunter and protect defenseless villagers from tyrants and their AT-STs. The clones have the LEGO Star Wars AT-TE tank at their disposal.

LEGO Star Wars AT-AT

LEGO Star Wars AT-ST

LEGO Star Wars AT-TE
Recall Your Favourite Moments in LEGO Star Wars Video Games
Children can also experience movie adventures in video games. LEGO Star Wars: The Complete Saga contains fun story missions from Episodes 1-6. In contrast, the LEGO Skywalker Saga will be released in 2021 and will feature all 9 episodes. In the unique LEGO Star Wars 3 game, you can relive stories from the Clone Wars animated series.
Do you prefer the original saga? Play the LEGO Star Wars 2, which only contains Episodes 4 to 6. For fans of the latest trilogy, we can recommend the LEGO Star Wars 7, which covers The Force Awakens with new characters, dubbing and gameplay.
Hide description
Was this information useful?
This form is used only for evaluating the information in the description above.
If you have any question about our products, services, transport or any other request, please contact our customer support.
What should be improved? Is anything missing here? Is anything wrong? Share it with us.
Best Sellers
1.
LEGO Set for children, suitable from the age of 9 years, characters: Chewbacca, launched in 2022, 586 piece(s)
2.
LEGO Set for children, suitable from the age of 6 years, launched in 2022, 105 piece(s)
3.
LEGO Set for adults, suitable from the age of 18 years, theme: Robots, launched in 2021, 2314 piece(s)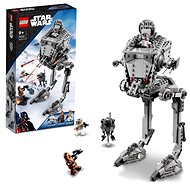 LEGO® Star Wars™ 75322 LEGO® Star Wars™ Hoth™ AT-ST™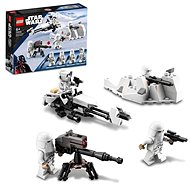 LEGO® Star Wars™ 75320 Snowtrooper Battle Pack
LEGO Star Wars
In the category LEGO Star Wars on Alza.sk, we currently have a total of 29 products, which you can easily buy online and get quickly delivered. See all of your purchases and make orders on our easy-to-use app.
Enter product name
Note (link, Part number etc.):
Check out products sorted by price starting with the lowest price in the category cheap LEGO Star Wars
Find products sorted from the most expensive to the cheapest in the category most expensive LEGO Star Wars
Check out products sorted by price starting with the highest price in the category best sellers, best LEGO Star Wars
You'll find products sorted by reviews starting from the highest ranked in LEGO Star Wars reviews