Used for cultivating lawns and gardens, lawnmowers are available in petrol, electric, battery, robotic, and manual models. When selecting a lawnmower, consider the size and condition of the area you want to mow.

Continue
Electric - ideal for smaller gardens and lawns.
Pros:

Lower purchase price
Lower weight
Low maintenance

Cons:

Movement is restricted by power cable
Power supply is necessary
Lower output
Petrol - suitable for large gardens and areas.
Pros:

Movement not restricted by power cable.
Higher performance
Greater capacity grass catcher

Cons:

Higher price
Difficult to maintain (e.g. changing oil and filters).
Less suitable for steep slopes
Cordless - a compromise between electric and pertrol mowers. You are not limited by a supply cable, so you can also move freely in large gardens. On the other hand, cordless mowers are not as efficient as pertrol mowers.
Pros:

Not necessary to mow near a power outlet
Quiet
Easy maintenance

Cons:

Use is limited by battery capacity
Higher purchase price
Less power (not suitable for mowing long grass).
Robotic - automatically mow the lawn without assistance according to preset programs. Initial startup requires the installation of a boundary wire. Robotic mowers are powered by rechargeable batteries.
Pros:

Mows without your assistance.
Easy maintenance

Cons:

Use is limited by battery capacity
Higher purchase price
Requires the setting up of a boundary area
Manual - suitable for maintaining small lawns. Unlike the mowers mentioned above, manual mowers do not have their own power supply or connection, and so they must be physically pushed. Despite this, their operation does not require great physical exertion.
Pros:

Not necessary to mow near a power outlet
Easy maintenance
Lower purchase price

Cons:

No power supply / connection to power supply
The mower must be phyiscally pushed
Useful features mowers:
Central height adjustment - all wheels can be adjusted using a single lever.
Height-adjustable handles - can be adjusted according to body size.
Self-propelled - the mower moves forwards when turned on, without pushing. Some models feature djustable speeds.
Edge cutting - for mowing close to walls, fences, curbs or pavements.
Mulching function - a mulching blade cuts grass into small pieces that serve as fertiliser.
Hide description
Was this information useful?
This form is for collecting Feedback Only. If you have any other inquiries, please our Customer Care team here.
Is something missing or displayed incorrectly? Let us know your suggestions so we can improve the website and customer experience.
Best Sellers
1.
2.
Gasoline Lawn Mower with engine, 4-stroke Weibang 159ccm, power 6.0PS, shot 51cm, basket volume 70l, steel chassis, central mowing setting 5 positions, mowing height 20-70mm, mulching plug, gearbox 3-4.5 km / h
3.
Cylinder Lawn Mower - spindle, 40cm, blade cutting system, cutting height 14 - 43mm, cloth basket 15l
Lawn Mowers
Hýčkejte svou zahradu a vše, co na ní máte, i v zimních měsících. Kontrolujte své stromy a keře, pečujte o...
Zahrada si zaslouží péči i v zimě. Především okrasné stromky je třeba chránit před polámáním a neměli...
V dubnu je zahrada již v rozpuku, a proto je nutné věnovat jí mnoho času a péče. Žádný zahrádkář by neměl...
Už jste slyšeli o baterii Power X-Change od společnosti Einhell? Dokáže s naprostou lehkostí pohánět...
POWERPLUS POWDPG7556
EXTOL PREMIUM 8895630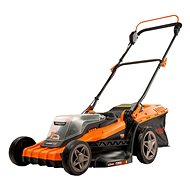 POWERPLUS POWDPG7561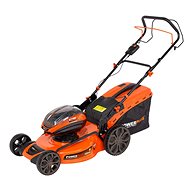 POWERPLUS POWDPG7568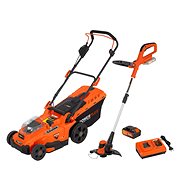 POWERPLUS POWDPG75620
Lawn Mowers
In the category Lawn Mowers on Alza.sk, we currently have a total of 222 products, which you can easily buy online and get quickly delivered. See all of your purchases and make orders on our easy-to-use app.
Enter product name
Note (link, Part number etc.):
Check out products sorted by price starting with the lowest price in the category cheap lawn Mowers
Find products sorted from the most expensive to the cheapest in the category most expensive lawn Mowers
Check out products sorted by price starting with the highest price in the category best sellers, best lawn Mowers
You'll find products sorted by reviews starting from the highest ranked in lawn Mowers reviews