Vytvorením inteligentnej domácnosti budete môcť ovládať osvetlenie, elektroinštaláciu, termostat, domáci alarm, kamery alebo zámky dverí na diaľku cez inteligentný telefón, tablet, ale aj počítač alebo televízor. Inteligentnú domácnosť si môžete ľahko zriadiť sami aj bez rekonštrukcie či zložitej inštalácie zariadenia – všetky spotrebiče, senzory a ďalšie príslušenstvo fungujú bezdrôtovo cez Wi-Fi, internet alebo bluetooth. Čo všetko budete potrebovať?
Continue
Ako začať s inteligentnou domácnosťou?
Najprv je potrebné urobiť rozhodnutie, či vám postačí jednoúčelová súprava, alebo vzhľadom na budúcnosť investujete do centrálnej jednotky. Priaznivci značky Apple majú k dispozícii ešte jednu alternatívu v podobe systému Apple HomeKit.
Jednoúčelové súpravy
Jednoúčelové súpravy sú relatívne lacné a jednoduché na inštaláciu – prakticky stačí všetko vybaliť zo škatule, rozmiestniť po byte a zapnúť. Tieto súpravy však nie sú veľmi dobre rozšíriteľné o ďalšie zariadenia a plnia iba jeden účel – typickým príkladom je inteligentný alarm alebo termostat, ku ktorému síce môžete dokúpiť bezpečnostné snímače alebo ďalšie termohlavice, ale keď si budete chcieť kúpiť napríklad inteligentné žiarovky, budete mať na ich ovládanie ďalšiu samostatnú aplikáciu. Čím viac svoju inteligentnú domácnosť rozšírite, tým viac budete mať aplikácií, čo nie je práve pohodlné.
Centrálne jednotky
Srdcom dobre previazanej inteligentnej domácnosti je centrálna jednotka (hub), ktorá komunikuje prostredníctvom konkrétneho protokolu – napríklad ZigBee alebo Z-Wave. Zvyčajne ju stačí pripojiť do elektrickej siete a k vášmu routeru. K takejto jednotke je možné kedykoľvek dokupovať ďalšie zariadenia, a tvoriť tak komplexnú inteligentnú domácnosť. Výhodou je jednoduché a pohodlné ovládanie, rozmanitosť a previazanosť celého systému. Inštalácia aj nastavenie sú na rozdiel od jednoúčelových súprav o niečo komplikovanejšie, aj tak by to však mal zvládnuť aj menej technicky zdatný používateľ.
Apple HomeKit
Samostatnú kategóriu tvorí Apple HomeKit. Ten sám o sebe nepotrebuje žiadnu centrálnu jednotku – tvorí ju váš Apple iPhone, iPad alebo iPod Touch a operačný systém iOS. Stačí len nakupovať smarthome zariadenia označené logom "Works with Apple HomeKit". Výhodou je to, že nie ste závislí na žiadnom komunikačnom protokole a môžete vybudovať komplexnú inteligentnú domácnosť ovládanú prostredníctvom jedinej aplikácie.
Prehľad komunikačných protokolov pre inteligentnú domácnosť
Jednotlivé zariadenia v rámci inteligentnej domácnosti spolu komunikujú prostredníctvom rôznych protokolov. Majte na pamäti, že ak chcete mať skutočne funkčnú inteligentnú domácnosť, musia všetky jej prvky podporovať rovnaký protokol.
ZigBee a Z-Wave
Jednotlivé smarthome zariadenia komunikujú s centrálnou jednotkou tak, že signál "preskakuje" z jedného zariadenia na druhé, pokiaľ nedosiahne centrálnu jednotku – to umožňuje komunikáciu na podstatne väčšie vzdialenosti. Oba protokoly využívajú zabezpečenú komunikáciu so 128-bitovým šifrovaním. Kým ZigBee komunikuje na frekvencii 2,4 GHz, Z-Wave využíva frekvenciu 868 MHz pre Európu a 908 MHz pre USA a Kanadu.
Pri rozhodovaní medzi ZigBee a Z-Wave sa zamerajte na to, či všetky zariadenia, ktoré chcete zaobstarať, využívajú rovnaký komunikačný protokol (napríklad termostat kompatibilný so ZigBee nekomunikuje so Z-Wave a naopak).
Wi-Fi
Na komunikáciu s používateľom cez smartfón a s centrálnou jednotkou (hubom).
Bluetooth
Na priame pripojenie smartfónu či tabletu k smarthome zariadeniu. Bluetooth je oproti Wi-Fi viac náchylné na rušenie a má nižší dosah (do 10 metrov).
GSM
Využíva sa predovšetkým v zabezpečovacích systémoch na informovanie používateľa o dôležitých udalostiach zavolaním, zaslaním SMS, MMS, e-mailu alebo notifikácie.
Scény a profily v inteligentnej domácnosti
Hádam najväčšou výhodou systémov inteligentnej domácnosti sú scény a profily. Len čo vami vybraný profil aktivujete, centrálna jednotka spustí sekvenciu príkazov, ktorými ovláda niekoľko zariadení naraz. Pozrite sa na príkladové profily:
Profily sa navyše môžu spúšťať automaticky na základe nastavenia času alebo miesta. Môžete tak jednoducho nastaviť, v koľko hodín sa stlmí termostat alebo čo všetko sa má stať v dome pri vašom odchode.
Najčastejšie typy produktov pre SmartHome
Osvetlenie
Inteligentné osvetlenie ovládané smartfónom, bezdrôtovým vypínačom alebo stmievačom. Osvetlenie je dostupné ako v bielom, tak aj farebnom variante a líši sa podľa typu pätice. Farbu a intenzitu osvetlenia možno pomocou používateľských profilov rôzne meniť a prispôsobiť aktuálnej atmosfére alebo nálade.
Elektroinštalácia
Termostaty
Termostaty zefektívňujú vykurovanie, prinášajú prehľad o spotrebovanej energii a umožňujú ovládanie vykurovacích telies odkiaľkoľvek pomocou smartfónu alebo webového prehliadača. Nezáleží na tom, či kúrite plynom, tuhými palivami, drevom alebo máte ústredné vykurovanie. Niektoré termostaty dokážu ovládať aj zásobník teplej vody alebo klimatizáciu.
Zabezpečenie
Kamery
Inteligentné kamery umožňujú sledovanie deja v reálnom čase v okolí vášho domu alebo bytu odkiaľkoľvek. Nahrávanie môže byť spustené používateľom manuálne alebo automaticky v kombinácii s detektorom pohybu. Existujú aj termokamery, ktoré znázorňujú teplotu okolitých predmetov, živočíchov a osôb vo farebnej škále. Väčšinou sa vyrábajú ako príslušenstvo k telefónom, takže je ľahké s nimi vyraziť do terénu.
Meteostanice
Inteligentné meteostanice vás informujú o vývoji počasia až 7 dní dopredu, sile vetra, teplote a kvalite ovzdušia vnútri miestnosti aj vonku, koncentráciu CO2 a podobne. Dáta zobrazíte pohodlne vo vašom smartfóne.
Hide description
Was this information useful?
This form is for collecting Feedback Only. If you have any other inquiries, please our Customer Care team here.
Is something missing or displayed incorrectly? Let us know your suggestions so we can improve the website and customer experience.
Best Deals
1.
IP Camera with 360 ° viewing angle, swiveling, WiFi 802.11b / g / n, microSD (Max 32GB), night vision, motion detection, both microphone and speaker, administration via application. The power adapter is not included.
2.
Thermostat Head Bluetooth, integrated display, measuring frequency 1x per minute, control via mobile application
3.
Security System - with central unit, 2 cameras with 1080p resolution, 140 ° viewing angle, night vision, battery life up to 1 year per charge, Wi-Fi 2.4G, 8x zoom, microphone and speaker, IP66, IP DHCP, microSD 16GB to 128GB, USB Fast Charging 9V-2A/5V-2A, 2W Speaker, iOS/Android
SmartHome – inteligentná domácnosť
Společnost HikVision je předním hráčem na trhu se zabezpečovacími systémy. Nabízí řešení pro domácnosti...
EVOLVEO Securix je chytrá IP kamera se zabezpečovacím systémem. Je otočná, umí detekovat pohyb a po...
Bezpečná domácnost a ochrana vlastního zdraví by měla stát u každého na prvním místě. Proto není...
AI neboli umělá inteligence je termín, který slýcháme v poslední době poměrně často. Co to ale umělá...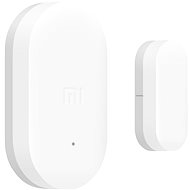 Xiaomi Mi Window and Door Sensor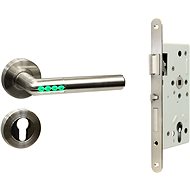 Richter Czech Smart Handle SET H.01/EN.304.SZ.PA.KO.L
Richter Czech Smart Handle SET H.01/EN.304.SZ.PA.KO.P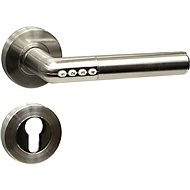 Richter Czech Smart Handle H.02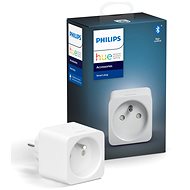 Philips Hue Smart Plug CZ/SK
SmartHome – inteligentná domácnosť
In the category SmartHome – inteligentná domácnosť on Alza.sk, we currently have a total of 1060 products, which you can easily buy online and get quickly delivered. See all of your purchases and make orders on our easy-to-use app.
SmartHome – inteligentná domácnosť – proved brands
Enter product name
Note (link, Part number etc.):