Smartwatches are a trend in recent years. A smartwatch is an smartphone extension connected to it wirelessly via Bluetooth. They are designed to mainly show notifications, though smartwatches also let you control some functions of your smartphone.
Continue
Functions
Although smartwatches are autonomous to a certain extent and operate separately, they are designed to work with a smart phone. Smart watches display a lot of useful information from the phone, so you can keep it in your pocket and stop checking it every few minutes. You smartwatch will tell you if you have received a text message, e-mail, or an event reminder. Watches can even accept or reject calls and control music.
Operating system
Just like smartphones and tablets, smartwatches too are based on operating systems. The Android watches are run by operating systems Android and Android Wear, while Samsung Gear S is equipped with the Tizen operating system. These watches can be purchased in black or white colour, making them fine men's and women's watches. Apple Watch uses the operating system WatchOS and it is one of the few smartwatch types that can be connected to an iPhone.
Monitor your heart rate
A number of smartwatches, such as the Samsung Gear Fit, are water and dust-resistant, have removable straps, heart rate monitor, and a set of fitness tools. A smartwatch can thus serve as a fitness tracker for daily activities. Apple Watch is a bit special, with its sapphire glass and Digital Crown.
Hide description
Was this information useful?
This form is used only for evaluating the information in the description above.
If you have any question about our products, services, transport or any other request, please contact our customer support.
What should be improved? Is anything missing here? Is anything wrong? Share it with us.
Best Sellers
1.
Fitness Tracker - unisex, with direct wrist pulse measurement, pedometer, calories burned, sleep monitoring, water resistance 50 m (5 atm) , compatible with iOS and Android
2.
Smartwatch - unisex, with direct wrist pulse measurement, Google Pay, calling Date, Stopwatch, Alarm clock, Day of the week, Calendar and Dual time, water resistant up to 50 m (5 ATM) IP68, Wear OS, compatible with Android, storage capacity of 16GB, glass: gorilla glass, strap material: plastic, case material: stainless steel
3.
Smartwatch - unisex, with direct wrist pulse measurement, compatible with iOS and Android, storage capacity of 32GB, glass: gorilla glass, strap material: silicone, case material: steel
Smartwatches
Co přináší nejnovější generace legendárních Apple Watch? Čtěte dále a dozvíte se vše podstatné…
Apple po roce opět představil své největší novinky, mezi kterými nechybí ani nové iPhony 13, dlouho...
Jste-li majiteli chytrých hodinek, máte možnost upravit si vzhled ciferníku dle potřeby. Záleží na výrobci...
Přečtěte si, jak Apple Watch měří elektrokardiogram (EKG), a podívejte se na pár rad, jak dosáhnout...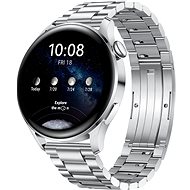 Huawei Watch 3, Silver
Smartwatches
In the category Smartwatches on Alza.sk, we currently have a total of 824 products, which you can easily buy online and get quickly delivered. See all of your purchases and make orders on our easy-to-use app.
Smartwatches – proved brands
Enter product name
Note (link, Part number etc.):
Check out products sorted by price starting with the lowest price in the category cheap smartwatches
Find products sorted from the most expensive to the cheapest in the category most expensive smartwatches
Check out products sorted by price starting with the highest price in the category best sellers, best smartwatches
You'll find products sorted by reviews starting from the highest ranked in smartwatches reviews